Tom Jordan®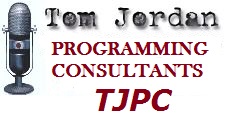 EMAIL to: tom@tomjordan.net



PROFESSIONAL EXPERIENCE:
Tom Jordan Programming Consultants/Voiceovers
2000-present

Buck Owens Production Co, Inc.
KUZZ-AM & FM Bakersfield, CA
2012-2016
Program Director/Midday Air Talent

Townsquare Media, LLC
KXLB-FM Bozeman, MT
2010-2012
Brand Manager/AM Drive Talent/Promotions Director


Peak Broadcasting Company
KSKS Fresno, CA
2007-2010
Program Director/Music Director/Promotions Director/AM Drive Talent


Silver Forest Inn Bed & Breakfast
Bozeman, MT
2006-2008
Independant Business Owner & Operator


Citadel Communications Corporation
Reno, NV
1997-2006
Operations Manager/KBUL Program Director/KBUL AM DRIVE TALENT
Plus, Oversee the operations of:
50,000 Watt News Talk 780 KOH,
Contemporary Music Magic 95.5
Nevada's Party Station! Wild 102.9
and Today's Best Country K-BULL 98FM.


Jacor Communications
KWNR/KFMS Las Vegas, NV
1997
Director of Operations/Program Director/Music Director
Increased overall country share of market by successfully developing
a divergence in the formats of two too similar stations.
Hands on experience planning line item budgets for programming, promotion, and news.


Southwest Radio Of Las Vegas
KWNR Las Vegas, NV
1995-1997
Program Director/Music Director/AM Drive Talent.
Responsible for promotional planning/departmental budgeting.


Citadel Communications Corporation
KBUL Reno, NV
1990-1995
Program Director/Music Director/PM Drive Talent.
Promotion planning and departmental budgeting.


KFH/KLZS/KXLK Wichita, KS
1985-1989
KFH Program Director/Promotion Director/Public Service Director.
KFH AM Drive Talent, plus production.
KLZS Assistant PD.
KXLK Air Talent



OTHER STATIONS: KGLC-KSSM/Miami GM
WMBH-Z103/Joplin OM/AT
WIRL/Peoria PD/AT
KLMS/Lincoln AT
KWTO/Springfield AT
KFSB/Joplin PD/AT
KFAL-KKCA/Fulton AT
KNEM/Nevada AT



SPECIALTIES: On and off the air, digital and social marketing,
programming, directing, producing, creating, marketing, branding,
it's all part of communicating.

Coach, develop, direct talent to increase the brand awareness,
marketability, ratings and revenues.

Discovering and encouraging new and upcoming talent,
to help them discover and grow.

In addition to Effective Marketing & Promotion I am very fluent in the following systems:

SS32, Merge 32, TLC, Nexgen Digital, AudioVault,
AVS Audio, Cool Edit/Adobe and Adobe Premiere,
RCS Sound Software, Selector Music Scheduling System,
MusicMaster Scheduling System,
Arbitron Ratings Software/PD Advantage/Maximiser.
Microsoft Office, Quicken/QuickBooks.



ACCOMPLISHMENTS: MusicMaster, Selector, Scott System and Internet proficient.
Have a solid working relationship with all major record labels.
Former broadcast consultant with clients in Corpus Christi and Reno.

Have numerous awards for community involvement.
Have done many speaking engagements, emceed concerts, etc.

Consulted and helped design broadcast facilities including selecting equipment.

KWNR consistently ranked top 3 in big money demo, adults 25-54.

At KBUL, increased ratings from a 5 to a 12.7 share in 1990 and remained the top station in the market to 1995.

As GM/SM of KGLC/KSSM, increased stations billing by a whopping 1700% in less than one year.

Served as Chief Engineer, Promotion Director, and News Director of WMBH/Z-103.

Go To Tom's Radio Philosophy
Listen to the Tom Jordan Audio HERE
Go back to MAIN TOM JORDAN page


Copyright © 1998-2016 tomjordan.net/Tom Jordan®. All rights reserved.